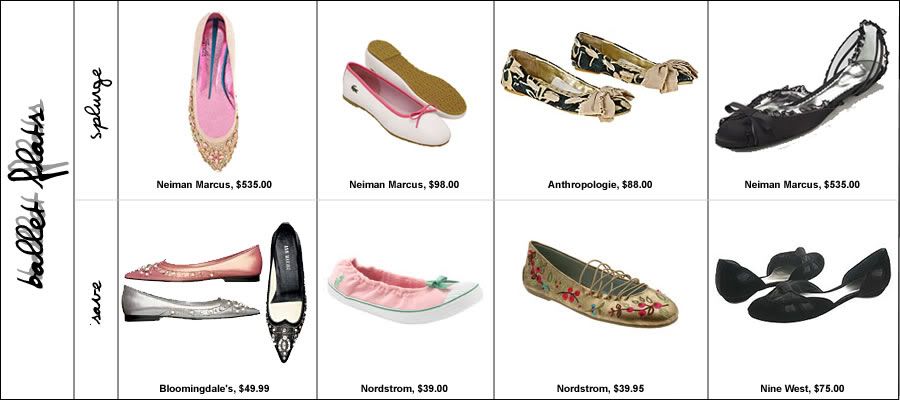 Just like Audrey Hepburn, ballet flats have an everlasting aura of class and elegance. These flats can be worn to a party, to the mall, or to the school and you'll never feel too dressed up or dressed down. However, stay away from those boring solid color ballet flats though! This season, ballet flats are getting a makeover and the fancier the better! Whether you have the budget to splurge on those coveted designer flats, or you've only got enough to buy some for under $100, there is a ballet flat for you.

Whether your style is flashy, preppy, vintage, or girly; there is a ballet flat for you that is within your budget. Consider getting all four styles; you'll always have a gorgeous pair of shoes to wear with any outfit! Ballet flats are chic, functional, and much more comfortable than those stilletos in the back of your closet.

How to wear ballet flats:




When you're trudging (or gliding) from the chemistry lab to english class, you don't want to be weighted down by unnecessary clothing items. Nonetheless, you're not just another student in that vast campus. Along with the Lacoste flats, wear a lightweight white tank top under a pastel colored oxford shirt. Put on some bermuda shorts, and heads will be turning! Deviate away from the typical preppy accessories though; wear dangly earrings and a bright colored necklace to express yourself. Don't be another Jansport backpack carrier! Use a tote bag instead. Give yourself an A+ with this preppy, flirty, but simple outfit that's sure to rock the spring trends at your school!




Don't look like another one of those teenyboppers at the mall! Wear some classy and snappy flats with dark denim pants! Add a chic looking blazer and you'll be able to shop-till-you-drop in style. Make the outfit a little more fun by adding a fun camisole underneath. Don't settle for a plain one this time! Add a flashy looking bag that's big enough to carry your make up essentials, but won't look like the oversized bags your grandma carries around. Accent your outfit with some gold jewlery, and no one in the mall will call you a fashion victim.

UNDER CONSTRUCTION.
Tips and ideas on how to wear ballet flats in other situations are coming soon!