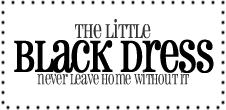 Ah yes, the perfect little black dress. Always ready when you want to dress up; it'll never let a lady down. It's classic, versatile, and slimming. What could be better?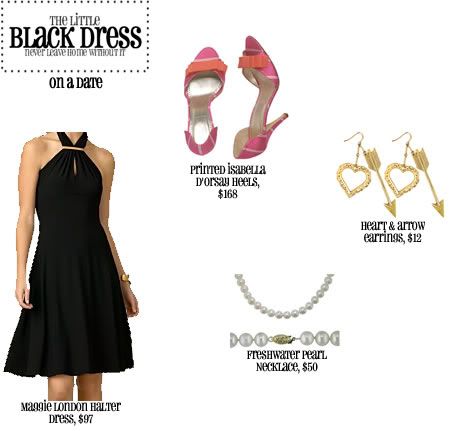 |
Maggie London Halter Dress
|
Printed Isabella D'orsay Heels
|
Heart & Arrow Earrings
|
Freshwater Pearl Necklace
|
When you're on your hot date with that special someone, don't fret about your outfit! Finding the perfect little black dress will solve all of your dillemas, and pairing it with a few standout accessories will make the outfit complete. Try wearing brightly colored heels with the black dress to keep a young and fresh look. Every lady should invest in a pair of pearls; they coordinate with any outfit and are timeless. Finally, wear funky earrings, such as heart & arrow earrings, to give your date a hint. You're no easy catch, and you shouldn't look like one either.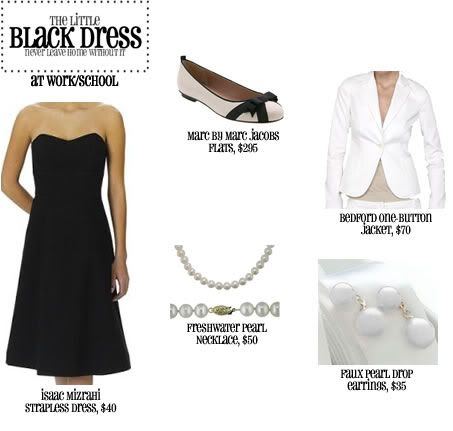 |
Isaac Mizrahi Strapless Dress | Marc by Marc Jacobs Flats | Faux Pearl Drop Earrings | Freshwater Pearl Necklace | Bedford One-Button Jacket |
When you're at work or even going to school (there are times when you want to spruce up; i.e., the hot college substitute instructor), remember to look more "classy" than "trendy". After all, at the end of the day, it's your work that makes a statement. Wear subtle colors but make each piece stand out. Keep the pearls that you wore on your date the night before; they're perfect with anything. A nice blazer, and comfortable matching flats will do the trick. Don't make your jewelry too boisterous; they could draw unnecessary attention. Keep to simple lines and colors; you'll never go wrong.